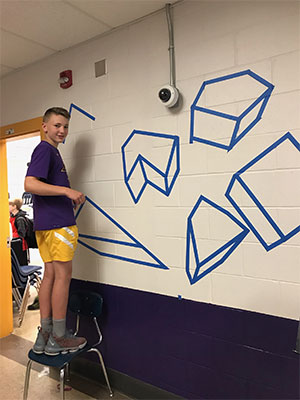 DCS 6th grade student Jeffrey Mulhern has fallen in love with creating 3-D shapes using perspective, reports his art teacher, Amanda Chovan.
Jeffrey and Ms. Chovan recently used painters tape to create a large display of shapes on the wall next to the 6th grade math room at the elementary school. "It took roughly 30 minutes, and the students were commenting on it right away," Chovan said.
"We had been learning about depth and perspective in art class, while mingling in a little bit of Surrealism," she said. "Surrealism is one of my favorite things to teach because its boundaries are limitless."
District residents voting on the budget May 21 were also able to enjoy Jeffrey's creativity.