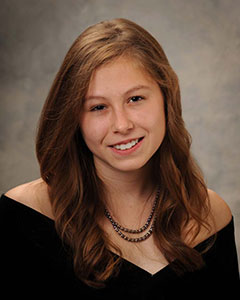 When Duanesburg High School senior Astrid Marz opened the letter from her "dream school," she was thrilled to learn she was one of fewer than 10 percent of American University applicants to be accepted.
"That enthrallment, though, soon died upon opening my financial aid package," she related. "Even if I took advantage of the option to graduate prematurely, I would be $165,000 in debt–and that's just the cost of my bachelor's."
Astrid penned an opinion article, from which the above quote is drawn, that makes a compelling case for change in the way college is financed in the United States. Her writing has earned her second prize in the opinion article division of the Daily Gazette's 2019 Student Writing and Photography Competition. It was judged against all entries submitted by students in grades 10-12 in the Capital Region.
Astrid will be formally honored at a May 15 ceremony at the Daily Gazette, and her full article will be printed in the paper's June 7 edition. She'll receive recognition of her excellent writing and a $50 award.
The aspiring Constitutional lawyer, who will attend U Albany to study political science in the fall, entered the journalism contest as an assignment in Rebecca Pless's creative writing class at Duanesburg High School. Astrid felt strongly about her subject matter; she found the most challenging parts of the competition were the 500-word limit and her desire to "not get political."
"The United States is so divided on so many issues," she said. "And although I am active in political issues outside of school – I canvass for and promote local candidates – I didn't want the article itself to be political.
"Actually," she added with a smile, "what I enjoy writing [usually] is poetry."
"I  am in awe of Astrid's creativity and ambition," said Rebecca Pless. "She's a bright light, every day. I'm glad that our community will hear her voice on June 7th; the world can anticipate great things from this talented young woman."
Thanks to Duanesburg's wide range of college-credit-bearing courses, Astrid will enter U Albany in the fall as a sophomore, with 33 college credits in hand. After she completes her undergraduate studies, Astrid's goal is to enroll in law school in Washington D.C., Chicago or Boston.
Congratulations to Astrid and Rebecca Pless!