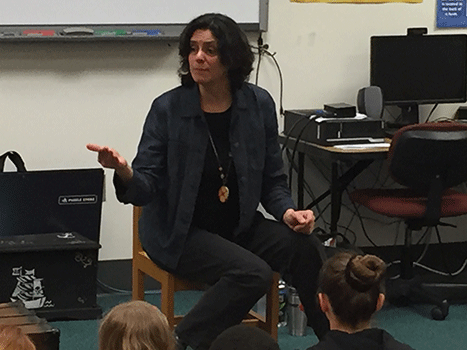 She took them from Italy to Ellis Island and to a new life in a new country. Along the way, Story Laurie led Duanesburg Elementary students through a lively journey of culture, history and song.
"Story Laurie and her program are among the most remarkable opportunities that our 5th grade students are able to be a part of," said teacher Chris Danapilis. "Through her storytelling and group songwriting process, Laurie is able to weave our cultural differences together to make learning engaging and fun for all the students."
For students gathered in the elementary library, Story Laurie, also known as Laurie McIntosh, and her "Journey to Ellis Island" presentation to brought to life for students the experiences of immigrants arriving in America during the late 1800s and early 1900s.
She portrayed her grandmother as an immigrant girl full of hopes and dreams. The students traveled with young Carmela on her emotional and often humorous journey from Potenza, Italy,  across the Atlantic to New York Harbor, where she begins a new life in a strange and magical land.
To prepare for Story Laurie's visit, Danapilis said the students take on the role of an immigrant to write a first-person diary entry about coming to the U.S. around the turn of the 20th century.
Story Laurie's visit is always a highlight for the students and a positive way to build appreciation of the many cultures that make up our country.